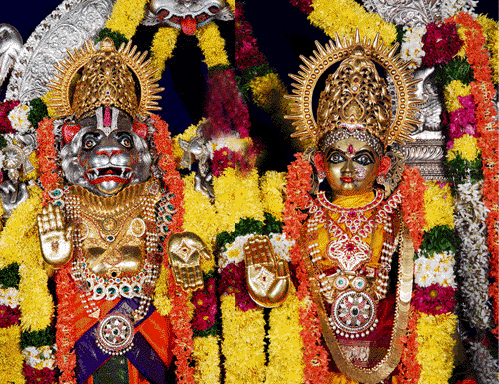 Sri Lakshi Narasimha Swamy Temple located at Yadagirigutta is a popular Hindu temple or Narasimha Swamy situated in a hill in Nalgonda district, near to Hyderabad city.
Lakshmi Narasimha Swamy is an incarnation of Lord Vishnu. Its located 65 kilometers from the city center and it attracts huge gathering of people on Sundays and public holidays.
The name is derived as Lord Narasimha is also known by its other name as Yadagiri and 'gutta' in Telugu means hill, so the name is Yadagirigutta Temple. The sanctum of main deity is located in a cave under a slating rock and maximum only people can enter it.
The temple is located 65 km from Hyderabad and its well connected by Roadways and Railways. If you are traveling by roadways then take the road from Hyderabad traveling to Warangal. APSRTC buses are operated in this route from Hyderabad and Secunderabad to this part of the world. The nearest Railway station is Raigiri for passenger trains and Bhongir for express trains towards Vijaywada and Nagpur from Hyderabad.
Legend
In Tretayugam, there lived a sage by the name of Yadarishi, son of the great sage Rishyasrunga and Santa Devi who did penance inside a cave with the blessings of Anjaneya (Hanuman) on this hill between Bhongir (Bhuvanagiri) and Raigiri (Now in Nalgonda district of Telangana, India). Pleased with his deep devotion, Lord Narasimha, an incarnation of Lord Vishnu appeared before him in five different forms as Sri JwalaNarasimha ,Sri Yogananda, SriGandabherunda, Sri Ugra and Sri Lakshminarasimha. All these five forms (roopas) are presently worshipped within the temple. They later manifested themselves into finely sculpted forms that later came to be worshiped as Pancha Narasimha Kshetram.
Another Legend also has it that Sriman Narayana, pleased with Yada's penance, sent Sri Anjaneya to direct the rishi to a holy spot, where the Lord appeared to him in the form of Sri LakshmiNarasimha. This spot is marked by a temple located at the foot of the Yadagiri hillock, and is located about 5 km from the present temple. There the sage worshiped the Lord for many years.
After Yadarishi attained moksha, a number of tribals, hearing of the Lord's presence, came to worship Him at this temple. But, not being very learned, these devotees began to engage in improper worship. Because of this, Sri LakshmiNarasimha moved into to the hills. The tribals searched for many years to find their Lord, to no avail.
After many years had passed, the Lord appeared in the dream of a devout lady among the tribe, directing her to a large cavern wherein He revealed Himself to all as five majestic Avatars.
History
The Aradhanam and Puja in this temple are performed according to Pancharatra Agamam. The puja vidhanam (Puja procedure) was set by Late Sri Vangeepuram Narasimhacharyulu who composed Yadagiri Suprabhatam, Prapatti, Stotram, Mangalashasanam and served as Sthanacharya of this temple.
In 15th Century the Vijayanagara Samrjya Samrat Sri Krishnadevarayalu wroted in his autobiography that while he going to war he Visited the temple and prayers the lord for victory .and also he got a son on the mercy of Lord Nrusimha Swamy.
As the belief goes, Lord Narasimha has taken on the role of a "doctor" and is known as "Vaidya Narasimha" by his devotees at this shrine to cure many chronic diseases and the role of a 'do gooder' to those who are under the influence of bad planets, witch craft and black magic. Many instances are cited of the Lord appearing in the dreams of the devotees, and administering medicines and operated the patients and blessed them with good health. Many devotees tell of vivid dreams in which the Lord comes to heal them from chronic or terminal illnesses, and even mental or emotional problems. A mandala (40 day) pradakshina is very popular made by many devotees to get cured of a long standing ailment or chronic disease. Often, the Lord Himself has imparted mantrOpadEsham to select devotees in their dreams.
Yadagirigutta Temple Timings
Temple is open from 4 Am to 9.30 Pm and following the darshanam timings
Darsahanam Timing during the morning
Suprabhatam at 04-00 am to 4-30 am
Binde teertam at 04-30 am to 5-00 am
Bala Bogam at 05-00 am to 5-30 am
Nijabhishekam at 05-30 am to 6-30 am
Archana at 06-30 am to 7-15 am
Darshnamas (All) at 7-15 am to 11-30 am
Maharaja Bogamu at 11-30 am to 12-30 am
Darshanams at 12-30 am to 3-00-pm
Dwarabandanamu at 03-00 pm to 04-00 pm
Darsahanam Timing during the evening
Special Darshnams at 04-00 pm to 5-00 pm
Darshnamas (All) at 05-00 pm to 7-00 pm
Aaradhana at 07-00 pm to 7-30pm
Archana at 7-30 pm to 8-15 pm
Darshnamas (All) at 8-15 pm to 9 -00 pm
Maha nivedhana at 9-00 pm to 9-30 pm
Shayanostavams at 9-30 pm to 9-45 pm
For VIP darshanam the price is Rs 150 per head.